Imagine this: you are walking down a city street, passing a number of stores and restaurants. All of them have glass fronts and glass doors, allowing the wonderful sunlight to stream through. The next morning a big storm rolls through and drops large hail, smashing in these nice glass windows and entrance doors. If one of these were your business, what would you do?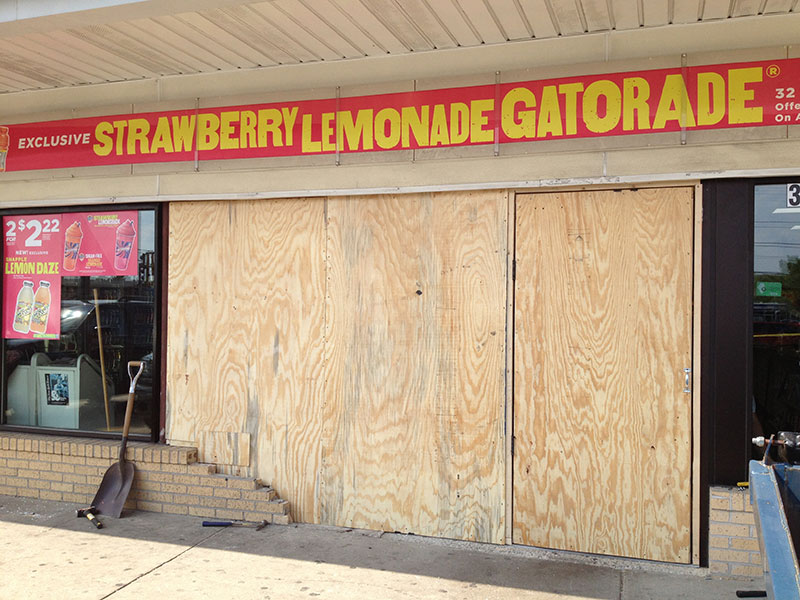 You need your business protected, so you need a board up company to come and put up temporary boards in the window spaces as well as the door space, plus add a working door so people can still come into your business. This is what Citywide Disaster Services can do for you.
You Need Action NOW
When you find that your business needs to be boarded up, you want this to happen NOW, not hours later. It doesn't matter the cause: hail, storm, break-in or other reasons, the goal is to protect your investment and to start fixing everything so that you can get back to normal. The longer your storefront is open to anyone and everyone, the more likely it is that things will get damaged or stolen, leading to further expenses just to bring everything back to how it was.
Let Citywide Disaster Services be your board up company. After the initial call to us, we'll be on-site within an hour putting up boards and securing your business against further damage. We've been doing this for more than six decades, so we know what it takes to secure a wide variety of circumstances, and we can do it quickly and professionally.
Beware Of Fly-By-Night Outfits
You've probably seen them driving around businesses and neighborhoods, and have heard the warnings. After big, damaging storms come rolling through the area, you'll find people going around trying to drum up business. The problem is that they are just there to make a quick buck, and they'll take shortcuts to get the job done as fast as possible while making a maximum amount of money.
Citywide Disaster Services has been here for decades, and we've proven that we know how to protect and secure buildings. We have a skill set that goes beyond typical mitigation services, which focus on preventing additional damage after the initial onset. Those others don't think or plan beyond doing the bare minimum to make it look like you're protected and secure.